BWS Water Supply System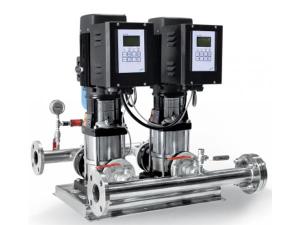 Description
The range of intelligent pressure boosting system BMS-HY is developed based on PDI control technology, which allows the controlling towards pump pressure within a certain range according to the water consumption with features of complete functions, reliable quality, stable operation and easy maintenance.
BWS Water Supply System Composition
BWS water supply system is composed by a pump unit, a pressure tank, a pressure sensor, PDI and accessories. If necessary, auxiliary pumps or pressure tanks can be added in the system.
Applications
- Communities, villas, office buildings, high buildings, hotels, restaurants, etc.
- Boilers (cold and hot water)
- Pressure boosting in water plant
- Industrial production
- Cooling water circulation system
- Fire fighting
Operating Conditions for BWS Water Supply System
- Power: 380 V, 50 Hz (60 Hz on request)
- Ambient temperature: 4 - 40℃
- Medium: Clean water or other liquids similar to water in physical and chemical properties
- PH value: 5 - 9
- Liquid temperature: 0 - 70℃
- Altitude: up to 1000 m
BWS Water Supply System Functions
- Constant pressure water supply
- Sleep mode for energy-saving
- Automatic start/stop
- Overload protection
- Low pressure protection
- Phase sequence and phase-lacking protection
- Remote monitoring
LEO is a listed company in China (stock code 002131), LEO is a leading water supply system manufacturer only offers high quality pumps. LEO has made millions of pumps now used in more than 140 countries, and is offering commercial water pumps, submersible pumps, pressure booster pumps with custom solutions. LEO water pumps can meet you any requires in commercial pumping and domestic pumping systems.